SPACE DUALITY | exhibition | HEAD – Genève & USM | 2019
Entering the seven different VR projects of SPACE DUALITY while being placed inside or on top of custom built furnitures does transfer the viewer into an unseen environment full of surprises. While some of the projects have an enchanted charm about them, others challenge us on how we would define what 'interior spaces' are in general.
'Space Duality' as part of the USM Design Grant was set up as a semester project in the department of Interior Architecture at HEAD, Geneva School of Art and Design. A group of twelve students developed projects offering completely new space related experiences that are immersive and deeply emotional.
Students taking part in the exhibition: Mélissa Ferrara, Brian Grenier, Kanya-On Khurewathanakul, Julia Miclos Moura, Hyeryeon Nam, Johanna Picard, Rébecca Sanmartin, Caroline Savary, Sonia Schwerdtel, Ophélie Surchat, Lydia Campana, Aurélie Chêne.
In collaboration with the
USM FONDATION
.
Awards: FRAME AWARDS 2020 - innovation award

Under the direction of Simon Husslein, with the assistance of Lara Grandchamp

Photos: HEAD – Genève, Emily Bonnet

Video: Directed & Edited by Atelier Simon Husslein, Camera, Lighting & Sound Recording by Sophie Dascal

HEAD – Genève:
Unity teacher: Michaël Martin
Director: Jean-Pierre Greff
Head of Department: Javier F. Contreras
Scientific Deputy: Valentina De Luigi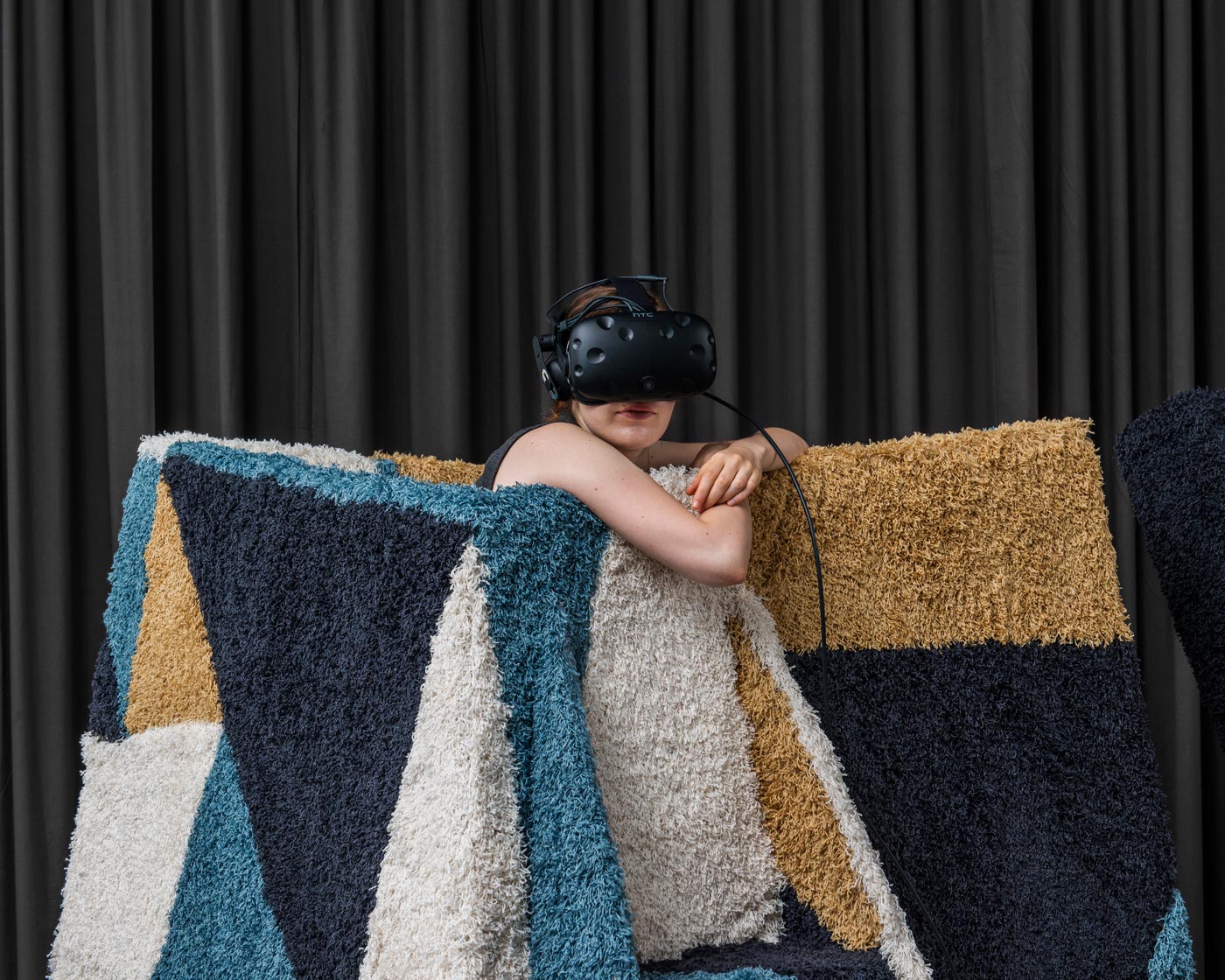 OFFICES & CUSTOMIZED FURNITURE | SiR MaRY | 2019
We designed the new office for SiR MaRY, who has been awarded as Switzerland's "digital agency of the year'. The workplaces are arranged around a custom made, nine meter long office table with integrated storage spaces. The room is lit by a 12 meter long LED light strip that forms the agencies logo. For small meetings in the main room we built a free standing tete-a-tete cube, that is completely covered by a copper mesh to minimize the reception of electromagnetic waves including Wifi and mobile phone signals, suggesting a very analogue use of the space. The main meeting room is colored entirely brown with carpet reaching up to its ceiling, containing a central meeting table with gold-plated table top.
Interior Architecture : Simon Husslein & Silvia Baumgartner
Customized Furniture: Simon Husslein

Photos: © SiR MaRY
STUDIO APARTMENTS | interior architecture | Schiff 70 | 2019
Wo einst das Gasthaus «Zum Schiff» stand, befinden sich heute 15 moderne Studio Apartments. Das Haus Nr. 70 am Zürcher Limmatquai bietet seinen Bewohnerinnen und Bewohnern einen stilvollen Rückzugsort zum Leben und Arbeiten. 2018 wurde eine erste Gruppe der Studio Apartments zeitgemäss renoviert. Die Gestalter Simon Husslein und Silvia Baumgartner waren hierbei verantwortlich für den Entwurf und die Umsetzung der Zimmer sowie die Erneuerung des Treppenhauses und der Gänge. Die ursprüngliche Ausbauqualität und Ästhetik wurde erhalten und gezielt ergänzt. Die Zimmer sind optimal gegliedert und mit spannungsreichen Farbkontrasten entworfen. Dies verleiht dem geschichtsträchtigen Ort neues Leben und neue Impulse.
Interior Architecture : Simon Husslein & Silvia Baumgartner
Photos: Marcel Rickli
SEEING SIMON | exhibition | ASH | 2019
This installation invites the audience into an immersive scenography, a journey through wonders and enchantments. A prototype? A masterpiece? Your reminiscence.
Scenography: Simon Husslein

Video: Atelier Simon Husslein
This exhibition reinterprets and re-examines some of the deepest qualities of renowned Swiss company Bucherer. Nine students from the Interior Architecture Department at HEAD – Genève under the direction of Simon Husslein rely on their individual reflections and creativity to develop a contemporary vision of the brand. All have focused on a different approach to Bucherer and its shopping experience to deliver projects that are surprising, delightful, welcoming, challenging, dreamy, colourful and immersive. Each project enhances aspects that are dear to specific students while seeking to evoke viewers' emotions.

Students taking part in the exhibition: Saara Karvonen, Lara Grandchamp, Thalia De Monthe, Laure Christinat, Julie Suner, Paulo Jorge Dias, Sophie Berardo, Mark Viray.
Under the direction of Simon Husslein,
with the assistance of Wendy Gaze and Lara Grandchamp
Graphic Design: Neo Neo

Photos: David Naldini

Video: Directed & Edited by Atelier Simon Husslein, Camera, Lighting & Sound Recording by Aurélien Fontaned & Samuel Novo

HEAD – Genève:
Director: Jean-Pierre Greff
Head of Department: Javier F. Contreras
Scientific Deputy: Valentina De Luigi